Electrolysis Course Overview
(Permanent Hair Removal also known as Epilation)
Epilation is the permanent reduction of superfluous (unwanted) hair; it is a highly profitable and popular treatment. You will receive training with the use of Diathermy, Galvanic and Blend techniques; therefore you will be able to adapt your working techniques to suit the client's needs.
The epilation client is one of the most regular attendants in the salon, therefore providing the electrologist with a steady remuneration throughout the year.
Although laser hair removal has become increasing popular over the last ten years, there is still a high demand for electrolysis, as clients with lighter hairs or reactive skins cannot be successfully treated with laser.
We offer a comprehensive training course over three days in which you will learn how to successfully epilate hair from the following areas:  upper lip, chin, eyebrows, underarm, bikini, neck, chest/breast.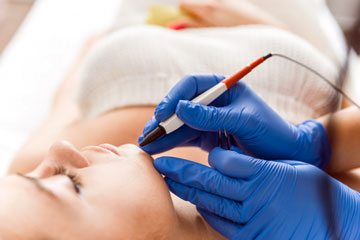 Earning Potential
Most advanced Epilation systems use a combination of frequencies to produce maximum destruction, with minimum skin reaction.
Pricing usually starts at £20 for 15 minutes treatment time.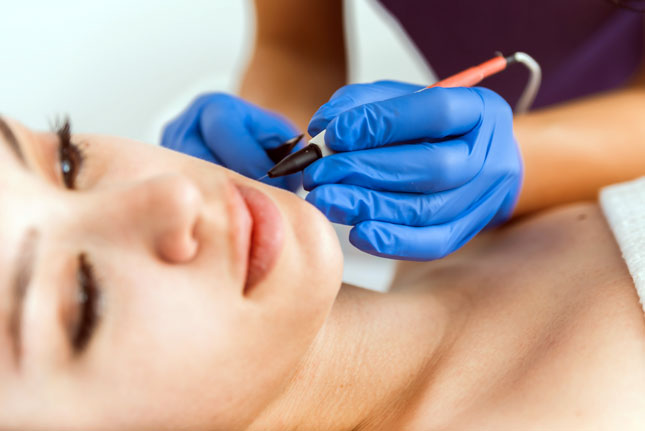 Course Content
On this course you will learn:
Practical application of safe and effective epilation methods – Diathermy and the Blend from various face and body sites.
Government & local authority legislation.
Health, safety and hygiene.
Related Anatomy and Physiology.
Treatment planning
Client consultation.
Contra-indications.
Needle types.
Course Information
Entrance requirements
Candidates must hold Level 3 NVQ and a recognised qualification  As Epilation is a highly specialised area of work, a good deal of patience and concentration is needed to perfect the skill. If you do not hold the level 3 Anatomy and Physiology, you can take this alongside this Electrolysis Course.
Exam / assessment info
You will be assessed by continual observation throughout the course, to ensure that you have all the knowledge that you will need to practice your skills professionally, and a follow up of 3 case studies.
£595 includes training, manual, and certificate on completion.