What Is Profhilo?
Profhilo is an award winning treatment and an innovative approach to anti-ageing, it contains stabilised hyaluronic acid, a naturally occurring substance produced in our bodies to help retain moisture. Profhilo is not a mesotherapy product or a dermal filler, it is the first of its kind as its sole purpose is not to add volume and "fill" lines and wrinkles, but to stimulate collagen and create a tighter, more youthful appearance.
Profhilo can be used for the face, neck and hands.
What Does It Do?
Profhilo is not for adding volume like the results of fillers, instead it nourishes dermal cells providing hydration from the inside out. Once the product spreads evenly in the dermis, it interacts with the tissue causing it to regenerate by stimulating 4 types of collagen and elastin by a slow release of hyaluronic acid. This will help to improve creping skin, Improve skin tone, texture, hydration, radiance and increase firmness and elasticity of skin.
The skin will look healthier, softer and create a more youthful appearance.
When Can I See Results?
Results are extremely natural and are visible results can be seen after 2 sessions, one month apart. You can expect to see a gradual intense hydration and tightening of the skin 2 weeks after the treatment.
Eight weeks following the treatment is when you will see the most improvement, with the skin feeling lifted and skin tightened.
Profhilo should be performed every 6- 12 months for best results
Profhilo is usually performed in medical clinics with 5 injections, each side of the face.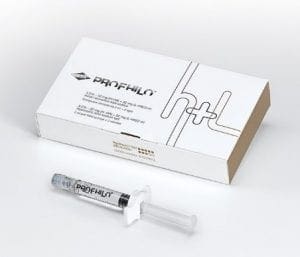 Course Duration: 1 Day
Time: 4hrs (Arrive 15 mins before)
Course Cost-£600
Course Accredited – no kit included
Pre-course requirements: You must have a minimum of Level 3 beauty qualification, and some form of injection qualifications.. You will be required to do pre-course work, exam and 3 case studies prior to receiving certificate.
We require a £200 Non Refundable deposit to secure your place on the course and the remaining balance is to be paid 14 days before the course date